Widely cultivated in Sindh and Punjab, the aromatic pulpy fruit is easily one of the most popular seasonal delicacies not just in Asia but also in the West. Known as the 'King of Fruits,' mangoes are one of the major agricultural exports of Pakistan with high demand all across the world.
Mango arrives in the market in early May and is generally available till the end of September. Although this rich and tropical fruit is grown in over 100 countries, Pakistan remains its fourth-largest producer in the world. As of right now, the country is producing about 1.8 million tons of mangoes, of which approximately 6% are exported.
And let's not forget, mango is the national fruit of Pakistan.
Here are some more facts about mangoes, such as their nutritional value, their types, the quality and production of Pakistani mangoes along with their positive impact on the economy.
Pakistan exports 125,000 tons mangoes worth $72 million
KARACHI: Pakistan has achieved higher mango exports during the current season, as it exported 125,000 tons of the fruit, worth $72 million, despite numerous issues due to the COVID-19 pandemic.
Keeping stiff challenges of the global pandemic, the mango exports target was set at 80,000 tons; however, the All Pakistan Fruit and Vegetable Exporters, Importers and Merchants Association (PFVA) effectively managed to increase the export target by 45,000 tons after adopting aggressive strategy coupled with timely decisions taken by the federal government.
It is anticipated that within the next one to one-and-a-half months an additional mango export of 25,000 tons would also be achieved.
Waheed Ahmed, patron-in-chief of PFVA, said that the current mango season was one of the most difficult seasons in the history of exports.
However, the association (PFVA) translated the stiff challenges of the coronavirus pandemic into a unique opportunity by adopting appropriate and realistic strategies, including switching export of mangoes to sea and land routes after the airlines had shut down their flight operations.
Prior to the commencement of the current mango season, the entire world was engulfed with the global pandemic of coronavirus and subsequent lockdowns as a precautionary measure led to closure of super stores and markets, while the demand for foods reduced drastically due to the flights suspension, creating logistic issues. On the one hand, there were serious logistic issues, while on the other, people who remained confined to their homes due to the global lockdowns were badly in need of food items, particularly high nutrition food, which led to export of additional mangoes, Waheed said.
Taking timely advantage of this unique opportunity, President Arif Alvi convened a special meeting at the President House and decided to launch an aggressive promotion of Pakistani mangoes through Pakistani missions abroad by sending "gift of mangoes" to all heads of states with a view to improve diplomatic ties with these states.
In the light of this decision, the Trade Development Authority of Pakistan (TDAP) conducted mango promotion-related activities in 24 cities of the world through Pakistani missions abroad, while 30 heads of states of various countries were sent "gift of Pakistani mangoes" on an official level.
This well-thought strategy played a vital role in the promotion of Pakistani mangoes globally.
The consumers of the recipient countries of Pakistani mangoes played a leading role in highlighting the qualities of Pakistani mangoes.
Afghanistan emerged as the top country in import of Pakistani mangoes during the current season, while the UAE, Iran and Oman proved to be big international markets for Pakistani mangoes.
Afghanistan had a share of 46,276 tons, UAE, Iran and Oman have 33,000 tons, 17,956 tons and 11,459 tons, respectively.
Here are some benefits of mangoes you may not have known.
1. Helps in digestion
Mangoes could help facilitate healthy digestion. According to the book, 'Healing Foods' by DK Publishing, mangoes contain enzymes that aid the breakdown and digestion of protein, and also fibre, which keeps the digestive tract working efficiently. Dietary fibre helps lowering risk of heart disease, type 2 diabetes. Green mangoes have more pectin fibre than ripe mangoes.
_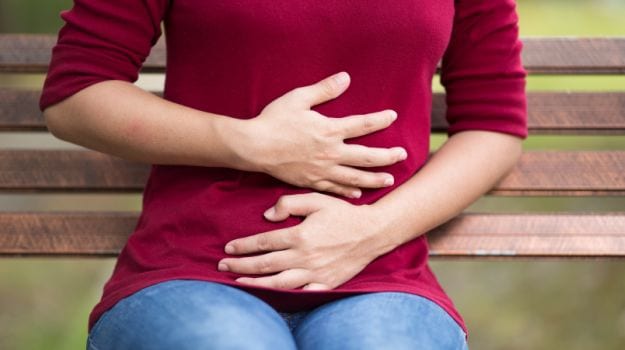 Mangoes contain enzymes that aid the breakdown and digestion of protein, and also fibre
2. Promotes Healthy Gut
According to the book 'Healing Foods', mango flesh contains prebiotic dietary fibre, which helps feed good bacteria in the gut. Healthy gut is detrimental for a healthy state. Leaky gut, apart from poor digestion results in skin conditions like IBS, asthma, slow metabolism and other health issues.
_
3. Boosts Immunity
You would be surprised to know that an average sized mango contains upto two-third of the daily recommended intake of vitamin C. The powerful antioxidant helps boost immunity system and prevents cold/flu.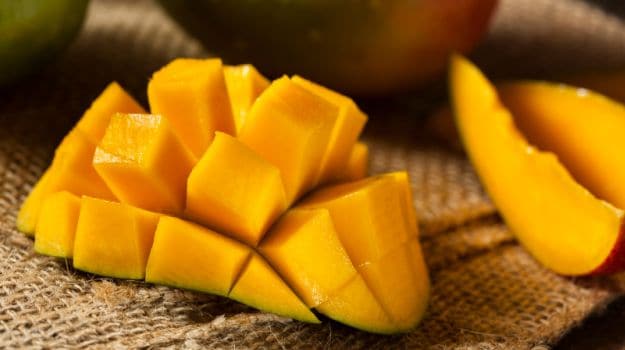 Mango contains upto two-third of the daily recommended intake of vitamin C.
4. Promotes eye health
Including mangoes in the diet may also help promote your eye health. Mangoes are rich in beta-carotene that helps in the production of Vitamin A. The powerful antioxidant helps improve vision, boosts overall eye health and even prevents age-related macular degeneration or loss of vision.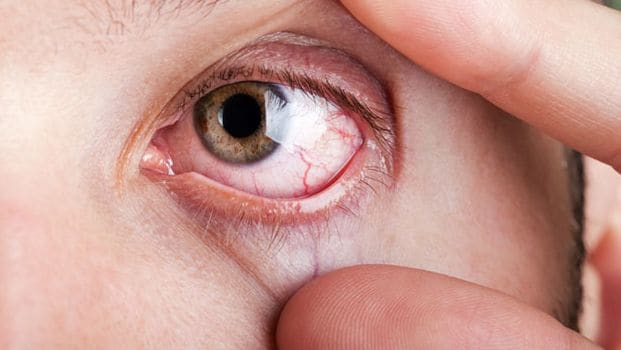 Mangoes are rich in beta-carotene that helps promote eye health
5. Lowers Cholesterol
Eating mangoes could help regulate your cholesterol levels too. The high levels of fibre pectin may help bring down the low-density lipoprotein (LDL or bad cholesterol) which causes plaques in the vessels and blocks blood flow.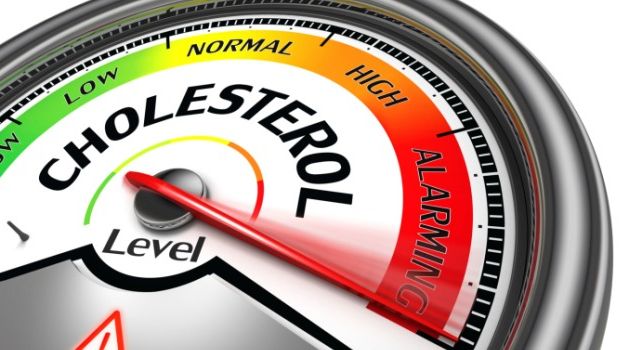 The high levels of fibre pectin may help bring down the low-density lipoprotein (LDL)
6. Clears the Skin
Mangoes are filled with skin-friendly vitamin C and Vitamin A, both of which are crucial for healthy skin and skin repair. Mangoes, eaten in moderation are also known to exfoliate and eliminate dead pores. According to Macrobiotic nutritionist and Health Practitioner Shilpa Arora ND, "Mangoes are loaded with skin healing nutrients; for example, fibre in mangoes cleanses your gut that is overloaded with toxic substances."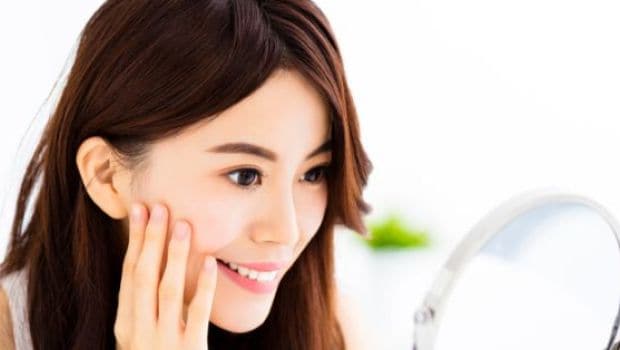 Mangoes are filled with skin-friendly vitamin C and Vitamin A
7. Even Diabetics Could Enjoy it
Yes it is sweet, and should be eaten sparingly, but that doesn't make mangoes a strict no-no for diabetics. The glycemic index of mangoes ranges between 41 to 60, with an average of 51. The value of 51 is on the lower end of the glycemic index scale. Foods that are less than 55 are consider to be low glycemic food, which is safe for diabetics to consume. Foods with low glycemic index, makes sure the release of sugar in the blood is slow, and there is no sudden spike in the blood glucose levels. Besides that, mangoes are also rich in dietary fibres, which again helps regulate the blood sugar levels.

_
8. Aids Weight Loss
Mangoes when eaten in moderation could also help in weight loss. The phytochemicals in the mango skin act as natural fat busters. The mango flesh is filled with dietary fibres. Fibres induce a feeling of satiety. On eating high-fibre fruits or veggies you feel full for a longer time, which prevents you from tucking in other high fattening snacks.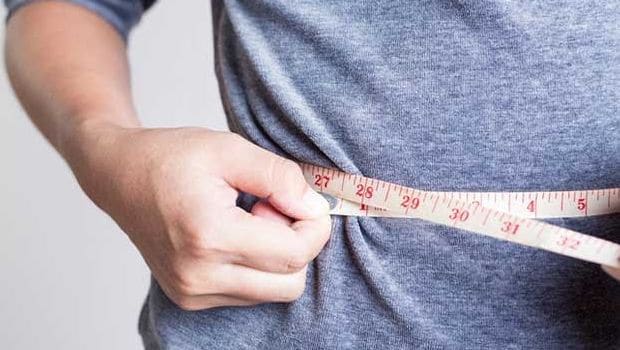 Mango promotes quick weight loss

Summers are here and so are mangoes. So what are you waiting for, let the digging begin!
Read more about: Dark Chocolate: 8 Proven Health Benefits